Rattan bow ties collection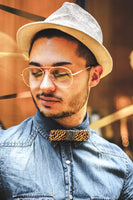 Who We Are
Driven by our passion to empower and partner with artisans around the world in creating appealing ethical products.
Thrilled by the world of the arts and all the adventure and exploration it brings, at times pushing us to extreme situations - why not?
Fueled by the need to answer our calling in helping create a better world, with you.